---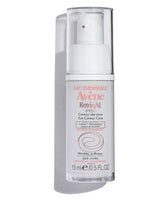 Size: 15 ml / 0.5 fl. oz.
SKIN TYPE: ALL SKIN TYPES
Formulated specifically for the delicate eye contour, this nourishing 3-in-1 eye cream minimizes the appearance of fine lines, puffiness and dark circles. The innovative texture prevents the formula from migrating into the eye for optimal efficacy and tolerance.
53% reduction of dark circles
1
15% reduction of puffiness
2
Benefits
Fills wrinkles for a smoother appearance
Visibly tightens the skin
Reduces appearance of dark circles and puffiness
Eye contour is left hydrated and supple
Hypoallergenic, Fragrance-Free, Paraben-Free, Soap-Free, Oil-Free, Soy-Free, Gluten-Free
1Study conducted on 32 subjects applying RetrinAL EYES every night for two months.
2Edwards. Topical Retinol and Retinaldehyde in cosmetics as alternatives to Retinoic Acid: evidence of Efficacy. Retinoids, 2001; Volume 17 Number 4