---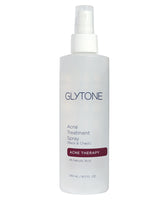 Size: 8.0 fl. oz.
This powerful Salicylic Acid-based spray has your back! Featuring Glytone's quick-drying formula and innovative pump design that functions upside down for ease of use. 2% Salicylic Acid deeply cleans pores and prevents new acne blemishes from forming on the back, shoulders, and chest.
PRODUCT DETAILS
Salicylic Acid removes dead surface skin cells, deeply clears and unclogs pores to prevent acne blemishes, pimples, blackheads, and whiteheads
Convenient, easy-to-use pump works upside own for optimal use on back and chest
Quick-drying formula allows for easy application on-the-go
Fragrance-free
Non-comedogenic
HOW TO USE
Holding bottle 3-6 inches away, spray directly onto cleansed, affected areas of the back, shoulders, and chest. Let dry prior to putting on clothes. Because excessive drying of the skin may occur, start with one application daily, then gradually increase to two to three times daily if needed, or as directed by a doctor. If bothersome dryness or peeling occurs, reduce application to once a day or every other day.
INGREDIENTS
Active Ingredients: Salicylic Acid 2 %
ADDITIONAL INGREDIENTS:
BENZALKONIUM CHLORIDE, ISOPROPYL ALCOHOL, POLYSORBATE 20, WATER.
INDICATIONS
For normal to oily, acne-prone skin:
Acne vulgaris
Clogged pores
Surface oils