---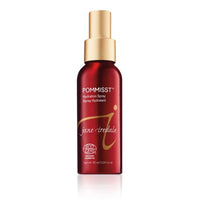 Size: 3.04 fl oz
Jane Iredale® Hydration Sprays have been reformulated and awarded ECOCERT's Natural and Organic certification! You'll love their fresh, clean fragrances and you'll love what they do for the health of your skin.


A facial spritz with the added benefit of Pomegranate Extract, a powerful antioxidant that helps fight free radical production caused by sun exposure.
Hydrates and conditions all skin types.
Use to set mineral foundation and help to conceal pores and fine lines.
Delivers powerful antioxidants.
How to use:
Use to set mineral makeup foundation for a long-lasting, smooth finish.
Tips
Lightly spray your face at arm's-length.
Use anywhere the atmosphere is drying, such as on an airplane.
Use as a moisturizer for oily skin.
Use to wet brushes to make eyeliners.
Spray in your hair to control static.
Keep in the refrigerator in summer for a refreshing spritz.